BENE (Latin): Well or good
CARIBE (Spanish): Caribbean
BENE CARIBE means Good for the Caribbean
We use fashion as a vehicle to promote what is good from the Caribbean.
We Are Vibrant, Passionate & Conscious
Like our personalities, our pieces are colorful and flavorful! We are inspired by the passion, warmth, camaraderie, flavors, vibrancy and rhythm of our Caribbean people and the waters, skies, forests and flora of our Caribbean environment.
What is life without passion?
At BENECARIBE, we are passionate about social responsibility. We value and believe that we are responsible for our community and aim to be responsible in the production and promotion of our fashion brand. We are active participants working tirelessly to solve some of our local problems and with the dream of creating a community where all can thrive.
We are conscious producers and consumers and we believe that with increased awareness, the Caribbean will produce more conscious businesses and consumers who are dedicated to sustainability and having a positive impact in their communities.
The Caribbean is GOOD (beautiful, energetic, positive, vibrant, productive, green)
People from the Caribbean are GOOD
People from the Caribbean are stylish
There is no one Caribbean style!
People from the Caribbean Do GOOD and give back to their communities
People from the Caribbean are talented, and "Made in the Caribbean means made with quality, love and craftsmanship
The Caribbean Diaspora is a rich and diverse diaspora that has contributed to global development and will give back to the ongoing stride to excellence in the Caribbean
There are organizations and individuals doing phenomenal work in the Caribbean and across our diaspora.
There are many people from the Caribbean who want to give back but just don't know how.
Prioritizing the use of traditional fabrics printed in the Caribbean, as well as traditional printed wax batiks from countries of the developing world.
The ethical use of material and resources.
Handmade/ slow-made processes
Recycling & reusing
Excellent quality from stich to service to sale.
Innovation in design and we do this through new collaborations, new products, new collections, and new causes.
A team and collaborative approach to all of our work.
Fair & living wages and believe that our customers will understand that the lowest price is not always the best or most ethical price.
Balance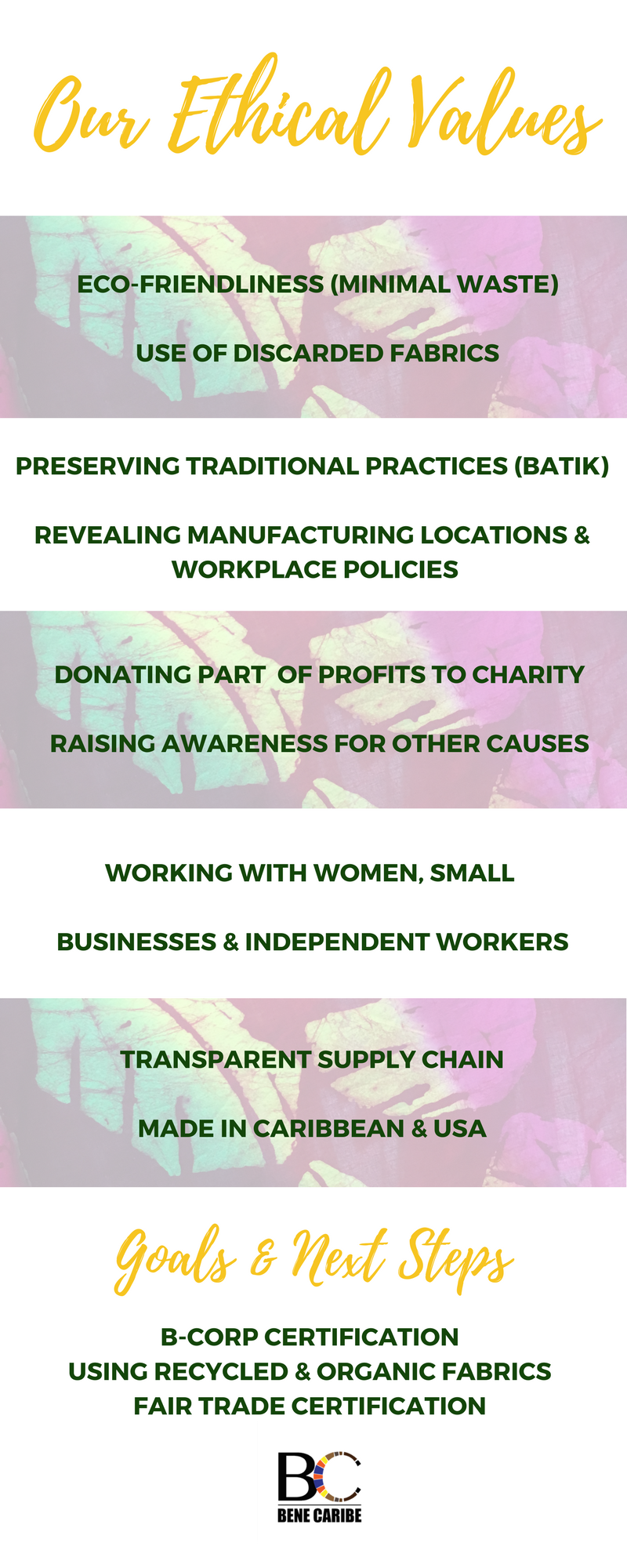 LEARN MORE ABOUT US & RECEIVE DISCOUNTS HERE
Subscribe to our Newsletter